Resources for Referees
There are several Entry Level Referee Courses (Grassroots) set for the next month in Lexington, Louisville, and Northern Kentucky. A specific list of these courses and the times they will be offered can be viewed at http://kyreferee.com/instruction-1. Please note we will be adding additional courses as this new approach from US Soccer is more fully implemented.
The course now does a large portion of the training online through the US Soccer Learning Center. After completing this training, the referee will attend an on-field session that lasts about 4 hours. We are excited as this really enhances the training provided to new referees.
A video tutorial on how to create an account with the US Soccer Learning Center can be viewed at www.youtube.com/watch?v=g8XoD9T-GQM&feature=youtu.be.
If you have any questions, please email Chad Collins, State Referee Administrator at collins1080@yahoo.com.


Reimbursement
If you have a current player or a member of Louisville Soccer and if you or anyone in your family (parents, siblings, aunts, uncles, etc.) would like to become a certified referee, WE HAVE A DEAL FOR YOU!!!

With the numbers of certified referees in our state reducing every year, Louisville Soccer is doing our part to help grow the referee certification numbers for 2019-2020. We are offering all families (players, parents, siblings, aunts, uncles, etc.) a deal of a lifetime!

When you register and pass your grade 8 referee certification course, Louisville Soccer will reimburse you for your course registration cost for anyone in your family. All you need to do is submit your payment confirmation along with your name and address once you completed your referee test to the Louisville Soccer Adminstrator and we will get your reimbursement check out at that time.

This is wonderful opportunity for anyone that was looking to be a new referee and if any of our LSA/ LSC players are looking to make some extra money, this is the perfect time to join the Kentucky State Referee Association!

If you are 14 years of age or old, you can become a grade 8 referee! Once you pass your referee course contact our referee assignor to start getting assigned games this season.

Go to www.kyreferee.com to register and become a certified official today!

*We will also reimburse any of our coaches and board members family members as well!
Offer Expires: 12-31-2019

**The US Soccer Resource Center is designed to support the referee community by providing access to the most up-to-date information about the U.S. Soccer Federation Referee Program. This is a great source of information for new and returning referees**
Helpful Info.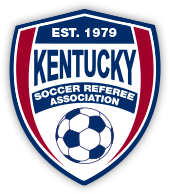 KYREFEREE.COM