Resources for Referees
USSF Referee Training/ Information
As you may be aware, US Soccer has changed the referee certification process and grades. All entry level and adult referees (former grade 9,8,7) will now be "Grassroots Referee". The new process is as follows:
1) All US Soccer referees (new & current) must register and create an account at: https://learning.ussoccer.com/referee/
2) Must be 13 or older to register
3) Those 18 and older must pass background check in system before being able to register (10-14 days needed for processing)
4) Complete online coursework (includes SafeSport and Safe Soccer Training along with Grassroots Quiz) (approx. 4.5 hours) (MUST BE COMPLETED BEFORE COMPLETED BEFORE ATTENDING GRASSROOTS ON-FIELD EXPERIENCE)
5) Attend and pass Grassroots On-field Experience (involves running on field, whistle needed) (Must Attend entire session)
6) While a fitness test is not required for licensure, it could be required by a competition authority (ex. league or tournament)
All course registrations, background checks, online coursework, and licenses are issued through the U.S. Soccer Learning Center. Referees are independent contractors and can work for any U.S. Soccer licensed assignor in the country.
A video tutorial on how to create an account with the US Soccer Learning Center can be viewed here.
If you have any questions, please email Chad Collins, State Referee Administrator at collins1080@yahoo.com.

Reimbursement

All Louisville Soccer players, coaches and board members, parents, aunts, uncles, grandparents and cousins are eligible for reimbursement.
Once you complete your Grassroots Referee Course, please submit the following information to the Louisville Soccer Administrator to receive your entry level course reimbursement.
1. Name of Louisville Soccer member and relationship to new referee
2. Copy of completed Grassroots Referee Course payment and proof of course completion
3. Name and address where reimbursement can be sent

*We will also reimburse any of our coaches and board members family members as well!*

Offer Expires: 6-1-24
Assignment
Contact the following Referee Assignors for more information on how to be assigned for upcoming games.

Louisville Soccer - Kyle Dock

KASL - Chris Schurfranz

KRSA Assignment
Helpful Info.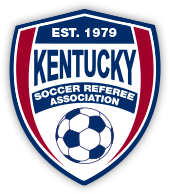 KYREFEREE.COM