Sponsorship Information
Louisville Soccer is about PLAYER DEVELOPMENT and we will do all we can to help anyone who wants to play the game we all love by providing great coaching and training, developmental and travel teams, private lessons, training programs, camps and clinics, adult leagues & uniforms and equipment.

Our mission as a non-profit organization that we foster a love for the sport of soccer and develops athletes of all ages by facilitating physical and mental growth and by bringing each player to their peak individual potential in a team atmosphere. Louisville Soccer's diverse and highly qualified coaching staff welcomes players of all races, cultures, and economic backgrounds to one of Louisville's most dedicated athletic clubs.

In the past 26 years, we have helped numerous players move on to play at their highest potential and our players continue to support the game by coaching the new up and coming players. Some of our current players and teams need your support. If it weren't for sponsors like you, our athletes might have never received these exceptional opportunities.

The soccer world can get very expensive with: tournament fees, field costs, facilities use, training programs, lessons, uniforms and equipment, coaching expenses, travel expenses, showcases, camps and clinics and more.

Louisville Soccer wants to help ease the burden of these expenses for parents and players as much as possible. We are asking for sponsorship so our dedicated young men & women can achieve their goals — in the soccer world and beyond.

In return all sponsors will receive recognition and business sponsors will receive quality advertising. This will also help other small and large businesses in the community gain recognition and exposure from Louisville's largest soccer club.

We thank you in advance for your time and generosity. If you have any questions, please contact us at (502) 479-3344 or gdattilo@bellsouth.net.

Sincerely,

Gemma Dattilo
Executive Director

THANK YOU FOR YOUR SUPPORT!
Company Sponsorships
As a sponsor of Louisville Soccer, your logo will be placed on the t-shirt or jersey of the program you chose. Your logo can be placed on the front, back or on the sleeves of the jersey or t-shirt. As well as your logo being seen at team events and games, you will have your logo placed on the Louisville Soccer website. The program sponsorship levels are based on the number of spectators at the event(s) and all sponsorships are for the seasonal year, fall through summer.
Sponsorship Levels
TOPSoccer Program: $1,000
Developmental Program: $1,000
Competitive Program - u9 - u14 (Fall and Spring): $1,500
Competitive Program - u15 - u19 (Spring Only): $2,000
Adult Soccer: $5,000
Personal Donations
Louisville Soccer is a non-profit 501(c)3 organization. If you would like to donate to any of our programs, please feel free to do so by mailing your payment to:
Louisville Soccer
P.O. BOX 34084
Louisville, KY 40232
If you have any questions or need any other information, please feel free to email Gemma Dattilo at gdattilo@bellsouth.net.
Mike Eimers Training Facility Advertising Opportunities
Are you looking to have your company's banner placed in Louisville Soccer's new training facility? There are many different sponsorship opportunities available and for more information go to mikeeimerstrainingfacility.com.
Support Us
Louisville Soccer Sponsors
Dick's Sporting Goods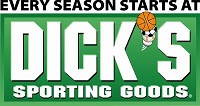 Elk's Lodge #8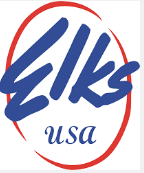 J. Harrod's Restaurant & Bar

Barber, Banaszynski & Hiatt, PSC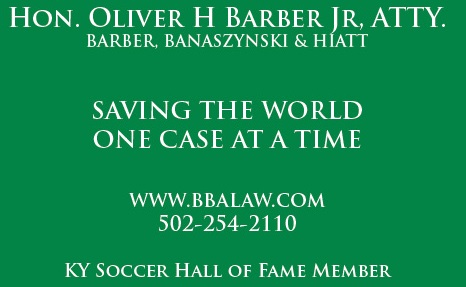 Hayes Contracting, LLC